Curriculum - Personal Development & Behaviour and Attitudes
Personal Development
At MSA we provide opportunities for our children beyond the academic as part of their personal development. We give our children opportunities for broader development and enable them to develop and discover their interests and talents. It is of great importance to us that we support our children to develop their character - including their resilience, confidence and independence. Personal development for our children is also about how we help them know how to keep physically and mentally healthy.
Ensuring that at each stage of our children's education we prepare and ready them for future success in their next steps, is a responsibility we take very seriously. It is also vital that we prepare them for life in modern Britain by:
equipping them to be responsible, respectful, active citizens who contribute positively to society
developing their understanding of fundamental British values
developing their understanding and appreciation of diversity
celebrating what we have in common and promoting respect for the different protected characteristics as defined in law
British Values

At Mount Street Academy we understand that the society we live in is diverse and through our curriculum, teaching and learning and extra-curricular activities we ensure that British Values are promoted.
Our aim:
We will endeavour to ensure that all learners understand the values that have traditionally underpinned British society so that they are 'Learning Today for the World of Tomorrow'. To this end, our intention is for British Values to be interwoven in the heart of the school and explicit links made through the cross curricular learning, Assemblies, Circle Time and PSHE.
Our objectives are:
To ensure that all pupils develop an understanding of the values which underpin life in modern day Britain.
To teach all pupils to have mutual respect and tolerance for and an understanding of, the various faiths and beliefs represented in Britain today.
To ensure that all pupils learn to uphold the rule of the law and support justice and equality.
To help all pupils understand and value the rich diversity that other citizens from different cultures, religions and backgrounds bring to our national society.
To value people's differences and respect them.
To develop pupils awareness and tolerance of communities different to their own.
To value democracy and to stand up for right against wrong.
To view our British Values policy, please click here.
Teaching Our Children To Stay Safe
Our PSHE/RSE curriculum (as outined above) plays a vital role in ensuring that our pupils are able to keep themselves safe. Our pupils are taught:
How to use technology responsibly
How to stay safe online
What positive relationships feel like and what to do if they are worried
The difference between secrets and surprises and what to do if an adult asks them to keep a secret
Personal hygiene: the spread of disease, handwashing and dental care
Road safety (supported by the Lincolnshire Road Safety Partnership)
Sun Safety
Fire Safety
Behaviour and Attitudes
At MSA, we have high expectations for learners' behaviour and conduct and applies these expectations consistently and fairly. This is reflected in learners' behaviour and conduct in and around school as well as positive attitudes to their education. We create an environment where children learn how to be committed to their learning, know how to study effectively and do so, are resilient to setbacks and take pride in their achievements. Another important aspect of this is our expectations for high attendance and punctuality.
Within school we nurture positive relationships among learners and staff within a respectful culture that has a zero tolerance to bullying, peer-on-peer abuse or discrimination; and that if they do occur, staff deal with these issues quickly and effectively.
Our Golden Rules
Mount Street Academy is committed to providing an environment where all people can feel safe, happy, accepted and integrated. It is important that an orderly framework should exist within which effective teaching and learning can take place.
Our emphasis is on recognising and celebrating effort and success, so that all children feel valued. We will teach children to take responsibility for their own actions and to accept the consequences of their choices. We adopt a zero-tolerance approach to bullying and any such incidents will be dealt with promptly and firmly.
The school holds an important position in the wider community, educating the young citizens of tomorrow in a way that will ensure that they take a positive and proactive role within their community in the future.
Children at Mount Street Academy are expected to follow our rules and values:
Determination – We never give up
We will try our best
We will work hard
Responsibility – We are honest
We will tell the truth
We will listen
Empathy – We are kind
We will be a good friend
We will use kind hands and words
Aspiration – We aim high
We will be the best we can be
We will follow our hopes and dream
Make a difference – We look after our World
We will look after our community
We will make the World a better place

These rules and values are displayed around our school environment and we refer to a set of characters called 'The DREAM Team' to support children in recognising and remembering them. We focus on one value every term and celebrate the demonstration of this value through our weekly DREAM assembly.

Behaviour and Rewards at MSA:
We have been developing our approach to Behaviour and Rewards since September 2019- please follow this link to read about our journey Behaviour at MSA - Our Journey
Five Point Scale (introduced September 2020) - also refer to our Behaviour at MSA - Our Journey document
In September 2020 we implemented the use of the 5 point scale tool across the whole of school. Prior to this, the 5 point scale was a self-regulation tool used in pastoral/nurture work with some children, but the decision was made to use this as a common feelings and regulation communication tool for all children in school, from Nursery to Year 2, by both children and adults.
The visual tool is displayed all around school, in classrooms, corridors, on the back of staff badges. From Autumn 2020 we carried out a lot of work with the children creating a common language and understanding of this tool and how it can be used.
This was introduced initially as a tool for regulation of behaviour and emotions but once individual children had grasped the tool as a strategy we then used this as a tool that we have embedded across all aspects of school. For example, as a check in when children come into the classroom of where they think they are, for children to be able to self-assess their learning in a lesson, for level of noise in the classroom/in the hall etc. It is now a common tool that all staff and children use within school.
The second purpose of supporting our children in being able to regulate their own behaviour more independently was linked to teaching and learning. Knowing that the children needed extra support to learn and make progress following the first period of lockdown, we revisited the research and evidence around the impact of this impact of metacognition and self-regulation on children's rate of learning
The first step in supporting our children in becoming more self regulated learners was to enable and empower them to first have the strategies and language/ communication tools to be able to regulate their feelings and behaviour. The 5 point scale allows them to do this.
For more information about metacognition and self regulation in learning, following the link here: EEF - 7 Recommendations for Metacogntion and Self Regulated Learning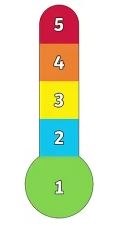 Restorative Practice (introduced September 2021) - also refer to our Behaviour at MSA - Our Journey document
This research revealed that many schools around the country had already moved to an approach called 'restorative practice'. This is not a new approach, it has been used in many schools (within the UK and Internationally) for many years.
The Department of Education and Early Childhood Development in 2014 stated that the rationale behind this approach is:
When offenders reflect upon their harm to victims:
They become remorseful and act restoratively
Practitioners can focus on the unacceptable behaviour of offenders rather than their moral character
This can lead to healthier interpersonal relations among members of the school community and more effective learning.
In his book (referenced above), Paul Dix also outlines 5 pillars for effective restorative practice and effective behaviour management:
Consistent, calm adult behaviour;
First attention for best conduct;
Relentless routines;
Scripting difficult interventions;
Restorative follow-up.
We follow this script for exploring an incident: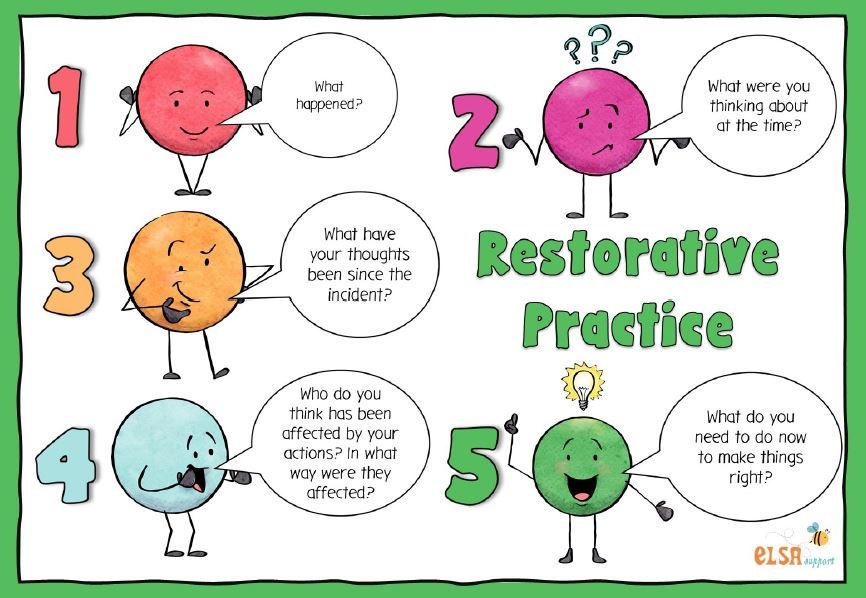 Teams and Team Points:
All children in school are divided into 'teams' (some schools call these houses). We have six teams at MSA:
Bailgate
Red Arrows
Brayford
Castle
Cathedral
Imp
Children earn team points for the team they belong to by demonstrating one of our school DREAM Team values in their work, attitude or how they behave. The points are added up each week and the winning team announced.